Death & the Maiden – Why Are Women Working With Death?
Saturday 13th May, 4.30pm
Hexagon Theatre, mac Birmingham
£6.00
In 2015 when interviewed for The New Yorker, Caitlin Doughty described working with dead bodies as "almost like a feminist act", qualified to take care of her own body as a form of empowerment not fulfilling a dutiful role. Death & the Maiden co-founder, Sarah Chavez explains that "in the press, women working with death are often reduced to stereotypes of the nurturing, sensitive, party planner – portrayed as selfless martyrs or even Disney Princesses – viewing the individuals, the work and the movement through a narrow lens, acknowledging only a fraction of the picture".
Death & the Maiden seek to challenge this narrative and capture the relationship between women and death in its entirety.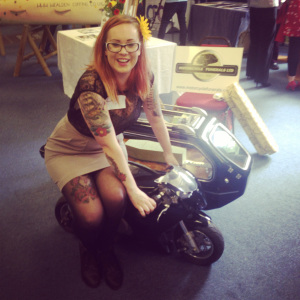 In this illustrated talk, Lucy Coleman Talbot will guide us through time and across cultures to examine how women and death are so closely connected, exploring why so many women are choosing to work with death.
Lucy is a writer and researcher, with a masters degree in Death, Religion & Culture. She is co-founder of Death & the Maiden, an interdisciplinary exploration of the relationship between women and death, and is a warden at Crossbones Graveyard in London. Lucy is also author of Little Book of Maudism, a philosophy including 10 lessons to live and die by, inspired by the 1971 cult classic and ultimate death positive film, Harold & Maude.