How Can Public Art Connect Grieving Communities? Orit Azaz in conversation with Luke Jerram & Mohammed Ali
29/10/2020 @ 6:30 pm

-

8:00 pm

Free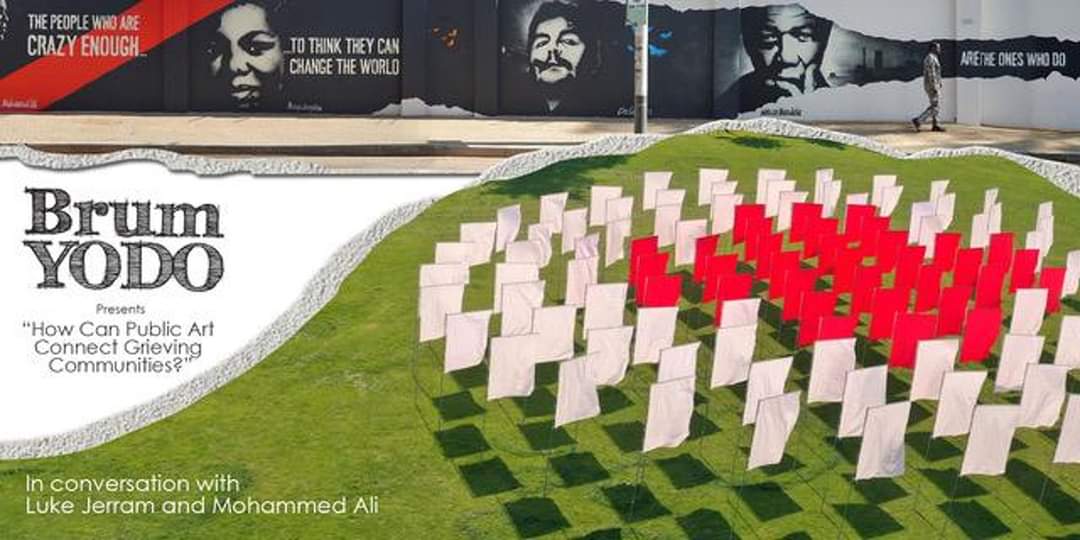 BrumYODO are delighted to present an in-conversation event with acclaimed artists Luke
Jerram and Mohammed Ali, hosted by Orit Azaz. We will consider art and creativity as
responses to COVID-19, how we approach acts of communal remembrance and memorial,
and how public art can enable us to have better conversations about death and dying.
Internationally renowned facilitator & creator Orit Azaz will speak to Luke Jerram about his
new public artwork 'In Memoriam', created in response to the pandemic, and to Mohammed
Ali, Creative Director of Soul City Arts, about his work within diverse communities in
Birmingham, and how art can bring people together in a socially distanced society.
*please note that this is an online event taking place over Zoom. Tickets are free, but please register
as places are limited.
Orit Azaz
Orit is an independent artistic director, facilitator and creative thinker, with a national and
international profile for working in cultural and community settings. Her experience combines
directing large-scale performances and events, developing contexts for collaborations
between artists and communities, and artform development and research.
Over the last 6 years, the focus of her work has been outdoor arts, working with the UK's
leading contemporary circus theatre company, Nofit State Circus, as artistic director of a
series of large scale open air performances, including 'Parklife', 'Barricade' and 'Open
House'.
In parallel, Orit has supported the development of outdoor arts, both nationally, and in
Birmingham and the West Midlands, working with Birmingham Hippodrome, mac
Birmingham and Creative Shift to help create the conditions for more high quality outdoor
arts in the region.
Luke Jerram
Luke Jerram is a multidisciplinary artist whose practice involves the creation of sculptures,
installations and live arts projects. Living in the UK but working internationally since 1997,
Jerram has created a number of extraordinary art projects which have excited and inspired
people around the world. He is known globally for his innovative arts practice and large scale
public artworks which are part of permanent collections in the Metropolitan Museum of Art in
New York and the Wellcome Collection in London as well as touring around the world. In
2019 alone, he had 117 exhibitions in 22 different countries. Luke Jerram was described by
Bloomberg Television as "probably the most famous artist you've never heard of".
His most recent artwork, 'In Memoriam' which is currently touring the UK, is a temporary
memorial for the public to visit and remember all those we have lost from the COVID-19
pandemic. 'In Memoriam' is also made in tribute to all the NHS health and care workers who
have been risking their lives during the crisis. Referencing those people who have been in
hospital and care homes during this crisis, the flags are created from bed sheets and
arranged in the form of a medical logo. Presented in the open air and in windy locations, the
structure allows people to enter, contemplate and explore the artwork, whilst adhering to the
rules of social distancing. Luke says, 'Not many people have been able to grieve properly,
with loved ones unable to visit their relatives in hospitals, funerals cancelled, churches and
cathedrals closed. So, although it feels like we're only half-way through this pandemic,
there's a massive need for an artwork that can help us grieve for those we've lost.'
Mohammed Ali
Art meets faith, identity and social change in Ali's work, adorning the canvas of walls and
public spaces and continues to change the visual landscapes of the cities we live in. He is a
pioneer in the street-art movement, initially fusing street art with Islamic script and patterns,
delivering powerful and moving messages that speak to all. His art has inspired and
informed a new generation across the globe to boldly express their identity and ideals.
Ali's ethos of "taking art to the people" has evolved to combine street-art with live
performances, installations, digital projections and moving soundscapes. He has created art
for live audiences throughout the world in cities such as New York, Kuala Lumpur, Cape
Town and Melbourne. Ali's work serves as a bridge, bringing together communities divided
by culture, faith and ethnicity. Ali's complex exploration of challenging social issues through
Art, provides transformative and radical tools to counteract challenges facing multicultural
society.
In 2008 Ali established an arts organisation, Soul City Arts, where he continues to work
strategically to bring art into the lives of everyday people. He is also an educator and
curator, and works often in the heritage sector. He is a trustee at the Birmingham Museum &
Art Gallery and an Associate Artist at the Birmingham Repertory Theatre. He was awarded
an MBE 2016 for his service to Art and Community Cohesion.
Details
Date:

29/10/2020

Time:

6:30 pm - 8:00 pm

Cost:

Free

Event Category:

Event Tags:

Website: