Orpheus @Hippodrome
17/05/2019 @ 6:00 pm

-

7:30 pm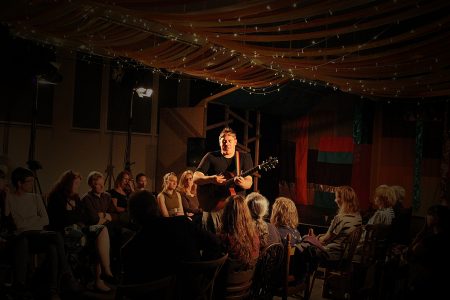 Dave is single and turning 30. He's stood at the bar.
Eurydice is a tree nymph.
And Bruce Springsteen is on the jukebox.
Orpheus is an ancient story of love and loss and adventure. A story of this world and the next. Of how far we'd go for the people we love and what happens when we come back empty handed. From the depths of the underworld to the tops of the highest mountains, Orpheus is an epic tale of gods and challenges and love re-imagined for the modern day. From the back rooms of pubs to terraced houses and cab journeys, Alexander Wright and Phil Grainger transform this ancient myth in to a modern day epic about people, our relationships and what we'll do to try and stay together.
A tale of impossible, death-defying love told through hair raising spoken word and soaring soul music. The Flanagan Collective and Gobbledigook Theatre weave a world of dive bars, side streets and ancient gods.
Brought specifically by the Hippodrome for A Matter of Life and Death festival it is part of their Fresh Fridays programme.
Stick around after the show for a FREE post-show talk with the company and BrumYODO team members.
Book your free ticket here