The Words We Cannot Say: How to Mourn and How to Listen Kathryn Mannix and Christina Patterson
09/10/2022 @ 2:30 pm

-

3:30 pm

£8 – £10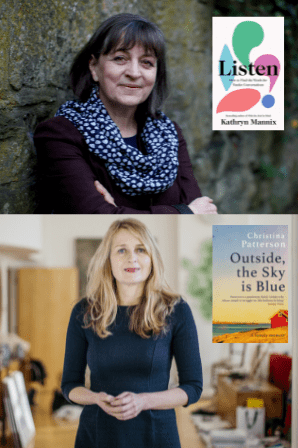 We want to highlight this event at Birmingham Literature Festival as our friend Kathryn Mannix is making her second appearance at the Birmingham Literature festival.
When a friend or relative shares something shocking – a bereavement, a diagnosis, a loss – it can be hard to know what to say.
Kathryn Mannix, whose entire career has been spent talking to people about difficult subjects, encourages us to listen and have better, more real conversations. Christina Patterson has had more than her fair share of difficult conversations, having been diagnosed with cancer twice. She is also the only remaining member of her family after both her parents and both her siblings died in turn, leaving her alone to carry the family stories and memories.
Kathryn and Christina write beautifully about topics and conversations most of us shy away from – and through their writing, allow us all to feel more able and willing to talk about the difficult realities of life. Chaired by Sam Baker.
Chaired by Sam Baker
About the speakers:
Kathryn Mannix has spent her medical career working with people who have incurable, advanced illnesses. Having qualified as a Cognitive Behaviour Therapist in 1993, she started the UK's (possibly the world's) first CBT clinic exclusively for palliative care patients and devised 'CBT First Aid' training for palliative care professionals. Her first book, With the End in Mind, was a Sunday Times bestseller.

Christina Patterson is a writer and broadcaster. She writes for The Sunday Times, The Guardian, The Daily Telegraph and The Daily Mail, as well as magazines ranging from Harper's Bazaar to Red. Her first book The Art of Not Falling Apart was published in 2018. She regularly appears on radio and TV news programmes, hosts the podcast Work Interrupted and is a speaker, facilitator, conference chair and coach. A former columnist at The Independent and Director of the Poetry Society, she has  contributed to books on poetry, literature and health.