Vamos Theatre: Dead Good
08/02/2022 @ 7:30 pm
£8 – £14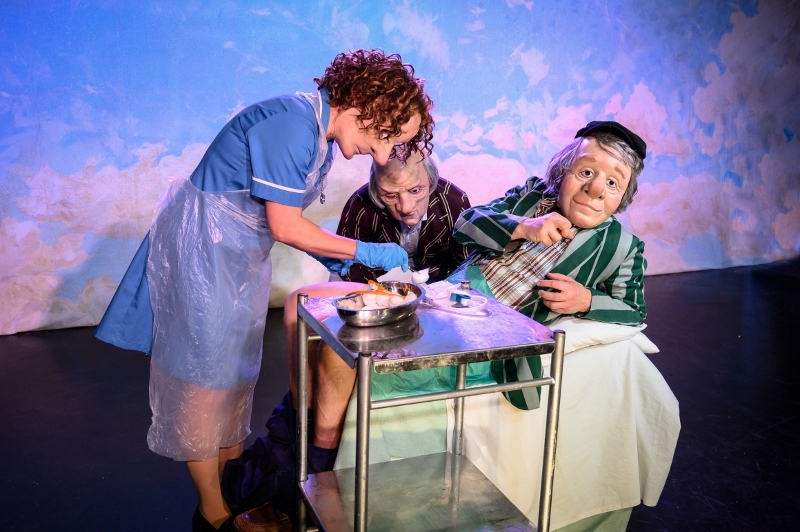 Bob and Bernard don't have that much in common. But after a chance meeting at their weekly hospice group, they realise they share one ambition – to do some serious living before they die.  So, with a bottle of Bollinger and the keys to Bernard's Bentley in hand, they hit the road, and take on one final, death-defying adventure.
Originally commissioned by London International Mime Festival, Dead Good is a funny and poignant theatre show celebrating friendship – and the importance of living every precious day to the full. Bubbling with humour and awash with pathos, this beautifully crafted production is performed entirely without words.
As Artistic director Rachael Savage explained to Diane Parkes one of our BrumYODO team when she interviewed them for Weekend Notes in 2020 : "The main reason we are telling this story is to ask the question of how the dying teach us to live and how do we live fully? I never thought I'd do a show about death but in all of the research, I've laughed more than I've cried. The way in which we usually see death portrayed, whether on television or Hollywood, is often dramatized and what I've really tried to do is to tell it as accurately as possible. We want to demystify death and take the fear out of it. We're a death-denying society and the show is trying to change that."
As part of her 18 months of research, Rachael worked with local hospices where she talked to staff caring for patients and people with terminal diagnoses. "At Mary Stevens Hospice in Stourbridge I met Dave, a patient living with prostate cancer. He told me about how being terminally ill had changed him, changed his relationships and changed his capacity to love. He's just like a bottomless pit now in terms of his capacity to love."
Rachael also came to know some of the men who meet at the Men's Space Group at Worcester's St Richard's Hospice. "The men who attend it have the kind of friendships that you make when there's nobody else who can really understand what you are going through. There I met two chaps called Nick and Pete and they are phenomenally good friends and that friendship is based on care and compassion for each other but also humour. They giggle and laugh and rib each other and take the mick all the time."
Rachael is sure Dead Good will build on the success of previous productions including Finding Joy, A Brave Face, Nursing Lives and Much Ado About Wenlock. "I think people expect to go away from one of our shows having laughed and cried and with something to think about," she says. "I give people a voice who often don't have one so our shows have to be about things that I am passionate about and that I want to make people think differently about."
Rachael believes these messages reach the audience all the more effectively because the characters are masked. "Full mask theatre draws people in," she says. "The actors have detailed scripts, objectives, the same things as other actors, but when there's the full mask on top there is a real clarity of thought. We pull the audience in to us so that we are connecting with them intellectually because they're working out what is going on and through that we also have a really close connection down to their heart where we can make them feel. What I hope is that the feeling then bounces back to the brain so we can make them think."
And Rachael adds: "My belief is that Dead Good is an important story to tell. I hope audiences will take away that life is precious and that their family and friends are precious. Love and laughter are wonderful things and, without making it into a cliché, to get out there and live life and learn what is important."
Dead Good is accessible to deaf and hard of hearing audiences without BSL interpretation.
Suitable for 12 years +
Image credit: Graeme Braidwood