We All Know How This Ends
26/04/2021 @ 7:00 pm

-

8:30 pm

Free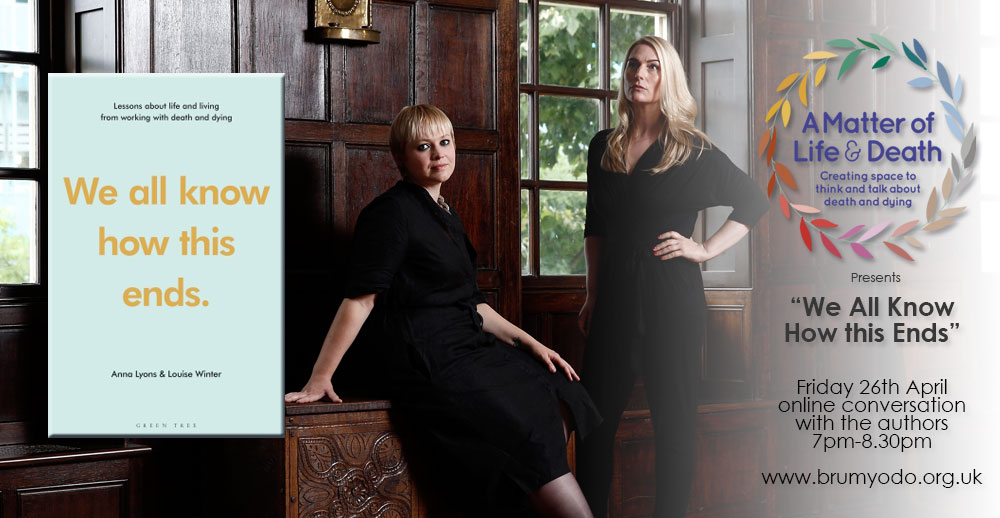 We All Know How This Ends: Anna Lyons & Louise Winter in conversation with journalist Diane Parkes 
BrumYODO are delighted to present another In Conversation with event; the fourth in our series of facilitated conversations with interesting people from the world of art, comedy & literature about death, dying and remembrance.
In this next In Conversation event, journalist & board member of BrumYODO, Diane Parkes talks to end-of-life doula Anna Lyons and funeral director Louise Winter about their new book, We All Know How This Ends: Lessons about Life and Living from Working with Death and Dying. Anna and Louise will discuss their new book, what they have learned about life, death, love and loss and discuss how and why we should all start to think about death in a radically different way.
This event is part of our online programme for this year's A Matter of Life and Death Festival, an annual arts and culture event aiming to encourage conversation about death and dying. This year's festival will also include In Memoriam an open-air art installation outdoor artwork will be sited in the grounds of Aston Park from 8-16 May (in line with Government guidance) and an invitation to people across Birmingham and beyond to take part remotely by creating a personalised In Memoriam flag. More info here.
Please note that this free limited space event is taking place online, reserve your spot here.
Anna Lyons & Louise Winter
Anna Lyons is an end-of-life doula and Louise Winter is a progressive funeral director. Together they are the team behind Life. Death. Whatever. Their joint mission is to redesign the dialogue around death and dying, and as a result, shift people's ideas of life, living, illness, funerals and grief. Ultimately, they believe this will provide people with a more empowered approach to whatever they're going through. They believe that death is a normal part of life and dying is part of living. Acknowledging and accepting that one day we will die is fundamental to living a full life.​
Diane Parkes
Diane Parkes is a freelance journalist who specialises in the arts. Diane has worked for regional newspapers in Southern England, Wales and the Midlands as well as regional and national arts organisations and venues. She is head of brand and media at Birmingham's John Taylor Hospice but currently on a sabbatical to study for an MA in Creative Writing.